General
The most beautiful parks in the world to enjoy spring
Are you a hopeless romantic when it comes to cherry blossoms? Ready to put an end to the winter blues? Looking to spread out that picnic blanket and share some tasty treats with someone special? Feeling like going on a hike through a national park that's just awakening as the snow melts? If you're trying to find some travel inspiration for these coming months, Civitatis has got you covered! With this list of the world's 7 most stunning parks to enjoy in springtime, we'll explore destinations like Japan, Canada, Brazil, New Zealand, and everything in between!
Kyoto Botanical Gardens, Japan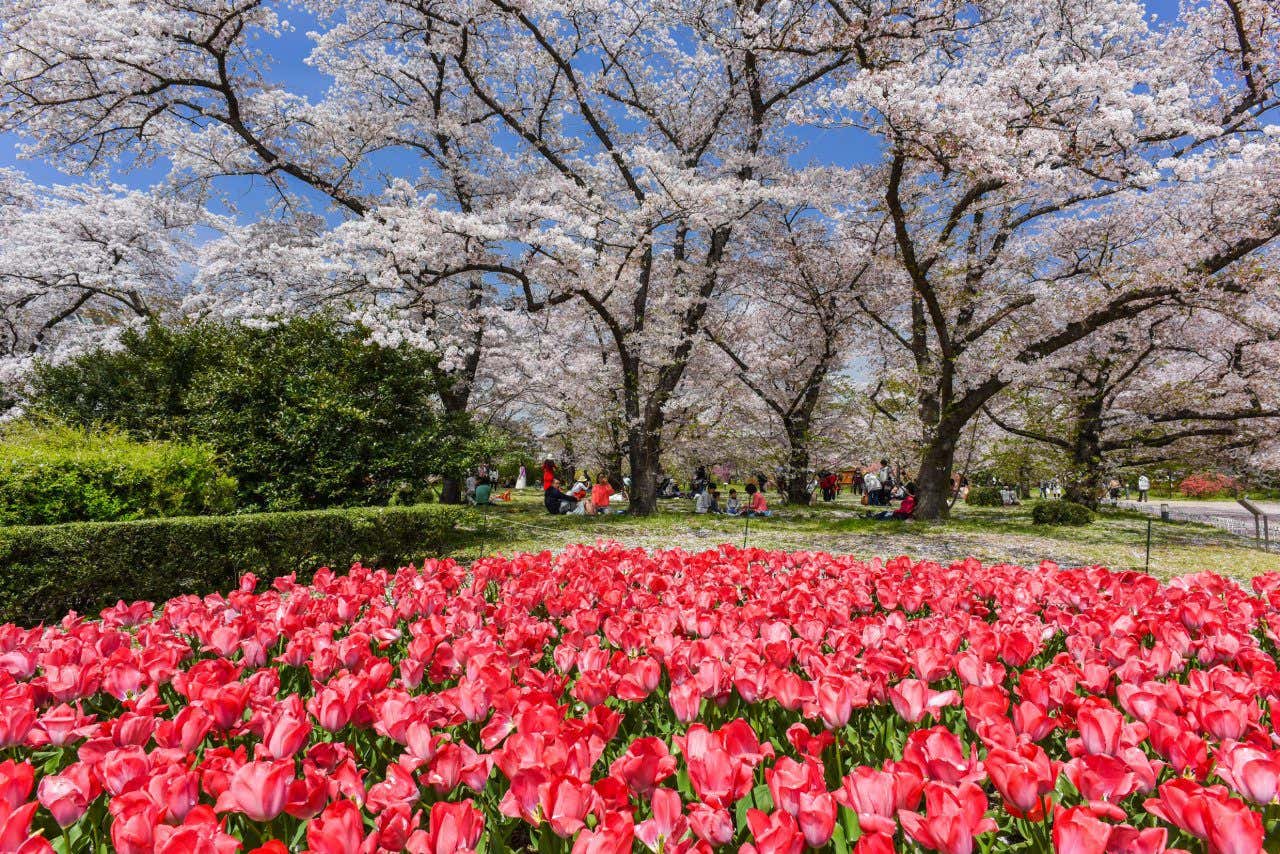 To top off our list, we're starting with the best of the best when it comes to flowers: the Kyoto Botanical Gardens. This pleasant park, located in downtown Kyoto, Japan, is home to over 12,000 different species of plants. Of course, the most coveted in springtime is the characteristic Japanese cherry tree, which explodes into bloom as early as late February, the beginning of the so-called Sakura season. The best time of year to see Japanese cherry blossoms is in late March or early April.
Did you know there's even a word in Japanese, hanami, that literally translates to "flower viewing"? This tradition has come to be associated with the widespread practice of picnicking beneath the fragrant cherry trees in springtime. Besides the beautiful botanical gardens in the city of Kyoto, two other must-see destinations for practicing hanami are Osaka and of course, Tokyo. The best way to move around Japan between these major cities is by train. To make the most of your cherry blossom sightseeing experience, we recommend checking out the Japan Rail Pass. You'll be able to move freely around the country and catch unlimited trains, including bullet trains!
Keukenhof Park, Holland
Our next beautiful spring park is located in the town of Lisse, just an hour away from Amsterdam. Keukenhof Park is one of the most famous parks in Europe and, in springtime, over seven million tulips bloom on its grounds, as well as daffodils, hyacinths, and numerous blossoming trees. You'll need around 2 to 4 hours to walk through all the flower gardens, but we recommend spending the whole day there, as there are often art exhibitions and events.
This Dutch park is only open for eight weeks every year (this year from 23 March to 14 May). If you're staying in Amsterdam, we recommend checking out this ticket to Keukenhof with transportation included to make getting there worry-free. On the other hand, if you've rented a car, we recommend taking a little detour through Zaanse Schans. This is a part of the Netherlands full of wooden houses, mills, barns, and workshops. In Spring, you can also appreciate the abundant tulip farms in this area.
Central Park, New York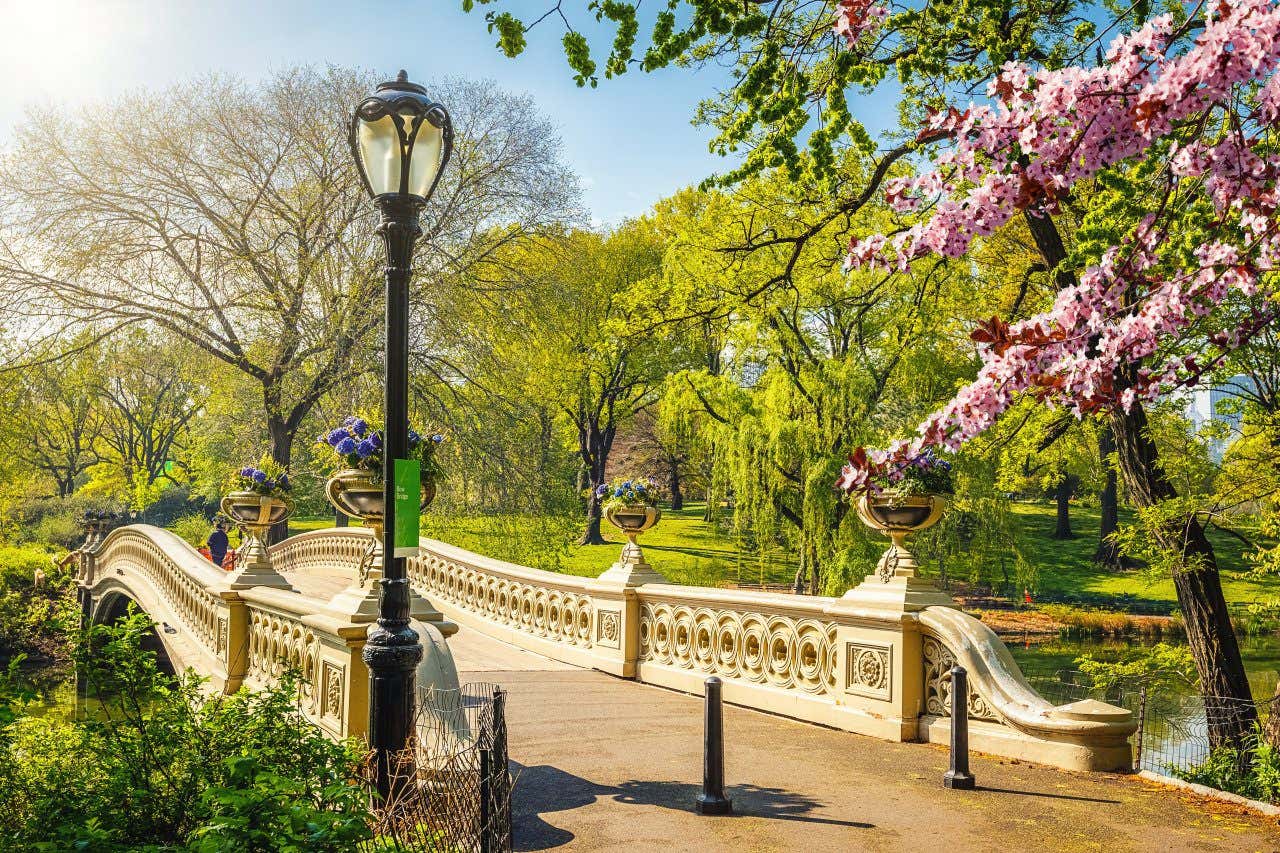 No list of parks would be complete without the most legendary of them all: Central Park. While Central Park is certainly dazzling at any time of year, there's definitely something special about this place between the months of April and June.
Central Park is an iconic destination located in the heart of New York City, and spring is undoubtedly the best time to experience its beauty. The park bursts into life as the weather warms up, with colorful flowers blooming, and lush greenery taking over the landscape. Taking a stroll through this massive park, you'll be immersed in a sea of pink cherry blossoms, yellow daffodils, and white magnolias, creating a picturesque scene. The warm spring weather also makes it the perfect time to enjoy outdoor activities such as picnicking, biking, and rollerblading. Overall, visiting Central Park in spring is an unforgettable experience that should be on every traveler's bucket list.
Besides the stunning natural scenery, Central Park offers a range of attractions and events that make it an exciting destination for visitors of all ages. In the spring, you can witness the park come to life with various concerts, festivals, and cultural events. Additionally, the park boasts a diverse range of restaurants and food vendors, where you can grab a bite to eat and enjoy the beautiful views. Whether you're a nature lover, culture enthusiast, or foodie, Central Park in spring offers something for everyone.
Parque do Ibirapuera, São Paulo
Let's take a trip to the southern hemisphere! For us northerners, this time of year means a gradual warming, new blooms, and the transition from dark to light. In the southern hemisphere, however, there begins to be a crisp breeze, and the golden hour seems to extend longer than usual. Autumn in Brazil is one of the most magical times, and the Parque do Ibirapuera in São Paolo is an ideal place to experience autumn at its best.
Parque do Ibirapuera is a must-visit destination for anyone traveling to São Paulo. This urban park offers a peaceful oasis in the midst of the bustling city, with beautiful gardens, winding trails, and picturesque lakes. The park is also home to several cultural institutions, including museums and galleries, providing a glimpse into the rich history and diverse culture of São Paulo. With its tranquil beauty and cultural significance, Parque do Ibirapuera is an essential stop on any São Paulo itinerary.
Hagley Park, New Zealand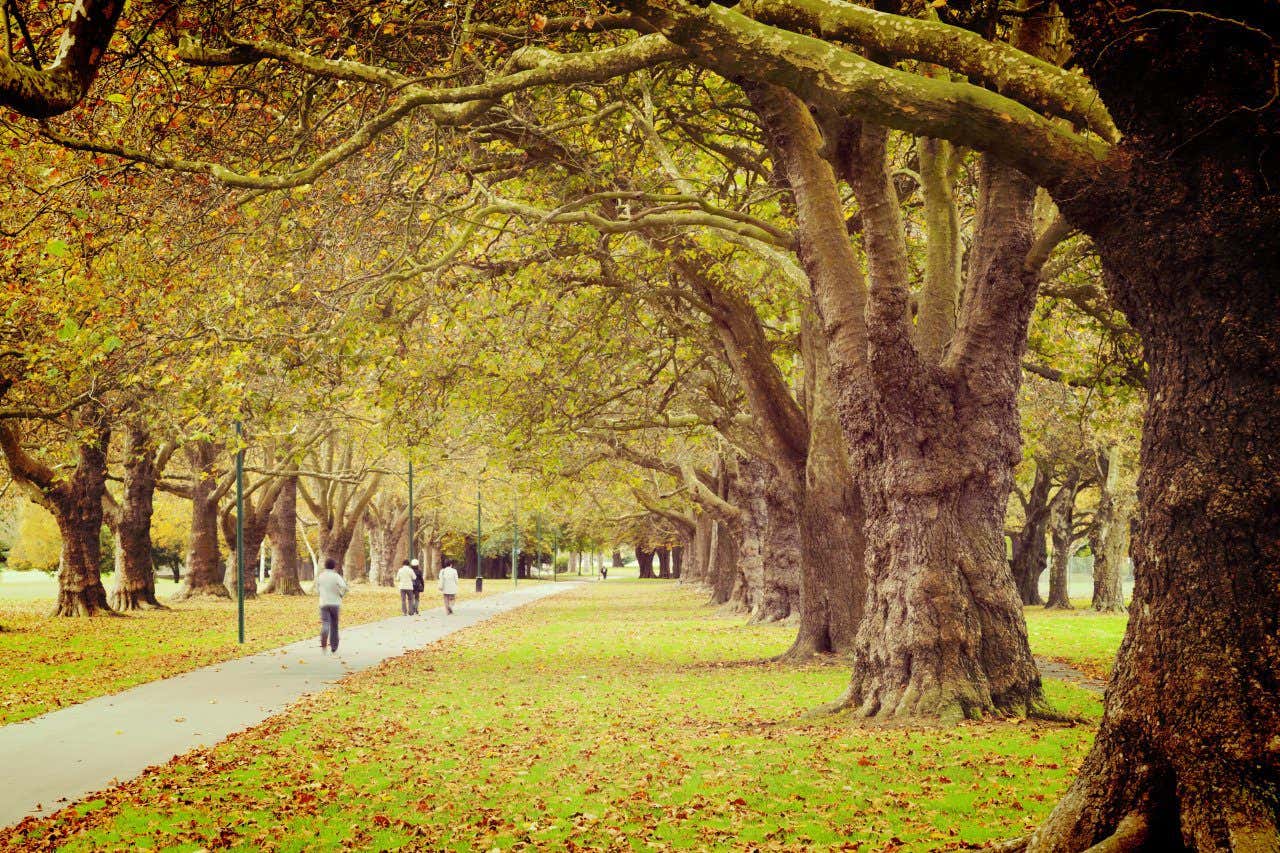 While we're in the southern hemisphere, we can't help but mention an incredible destination in New Zealand during the months of March-May. Christchurch, New Zealand is known as Garden City, so there's no better place to enjoy the full spectrum of blazing autumn colors!
Hagley Park is a stunning public park located in the heart of Christchurch and autumn is the perfect time to experience its beauty. As the weather cools down, the park's trees burst into vibrant shades of gold, orange, and red, creating a picturesque scene that is simply breathtaking. Taking a stroll through this massive urban park, you'll be surrounded by a sea of colorful foliage, providing a peaceful place to spend a sunny afternoon. There's also a golf course, tennis courts, and botanical gardens, making it an ideal destination for outdoor enthusiasts. Overall, visiting Hagley Park in autumn (March-May) is an unforgettable experience that should not be missed.
Hyde Park, London
Hyde Park is one of London's most iconic parks and is a must-visit destination during springtime. The park comes alive with vibrant colors and blossoming flowers, creating a breathtaking scene that is sure to leave a lasting impression. Walking through the park, you'll be surrounded by a sea of daffodils, tulips, and cherry blossoms, providing a peaceful escape from the hustle and bustle of the city. Hyde Park also offers a range of outdoor activities, including cycling, boating, and horse riding, providing plenty of opportunities to enjoy the fresh spring air. Whether you're a nature lover or just looking for a relaxing afternoon stroll, Hyde Park in springtime is totally ideal.
Hyde Park is home to several monuments and statues, including the iconic Diana Memorial Fountain, providing insight into the city's rich history and culture. You'll also find a range of events and festivals during springtime, including the annual King's birthday parade. With its stunning natural scenery and diverse range of attractions, Hyde Park in springtime is a must-visit destination for anyone traveling to London.
Banff National Park, Canada
We had to include at least one national park on this list for those of you who are adventurers at heart! Banff National Park is a picturesque destination located in the heart of the Canadian Rockies, and spring is an ideal time to visit. As the snow melts and the weather warms up, the park comes alive with blooming wildflowers and cascading waterfalls, creating a breathtaking scene that is truly unforgettable. The park's crystal-clear lakes, such as Lake Louise and Moraine Lake, also begin to thaw, providing a stunning turquoise backdrop for outdoor activities such as snowshoeing (if it's still cold enough, generally well into April), hiking, kayaking, and fishing. Springtime in Banff National Park is the perfect season to enjoy the great outdoors and take in the natural beauty of this stunning destination.
Besides the stunning natural scenery, we recommend a visit to Banff Springs Hotel and Basin National Historic Site, two places that provide insight into the park's rich history and culture. The park also boasts a range of dining and shopping options, including in the charming town of Banff, making it an ideal destination for foodies and shoppers. Visiting Banff National Park in springtime should be on every adventurer's bucket list.