At this time of year, it's a common debate amongst friends from all around the country. "We've got the Rockefeller Centre Christmas tree, and have you seen Home Alone 2?! New York is the best over Christmas, no doubt" says one. In chimes another "Where I'm from, Denver, you've got a pretty much 100% chance of snow on Christmas day. You can't put a price on that, it's a gift from the Christmas gods!". "You've clearly never been to the Christkindl Market" says the Chicagoan, and so on and so on forever…
One thing is for sure, every city has its claim to the title of "City with Most Christmas Sprit" – and at the very least holds a special place in the hearts of its residents over the festive period: packed with memories to last a lifetime.
But here at Civitatis we decided to put our analytical side to work, and came up with a way of quantifying the Christmassy-ness of each of the USA's 20 largest cities. So when the topic comes up this December, you've got cold hard facts to point to when you're making your case!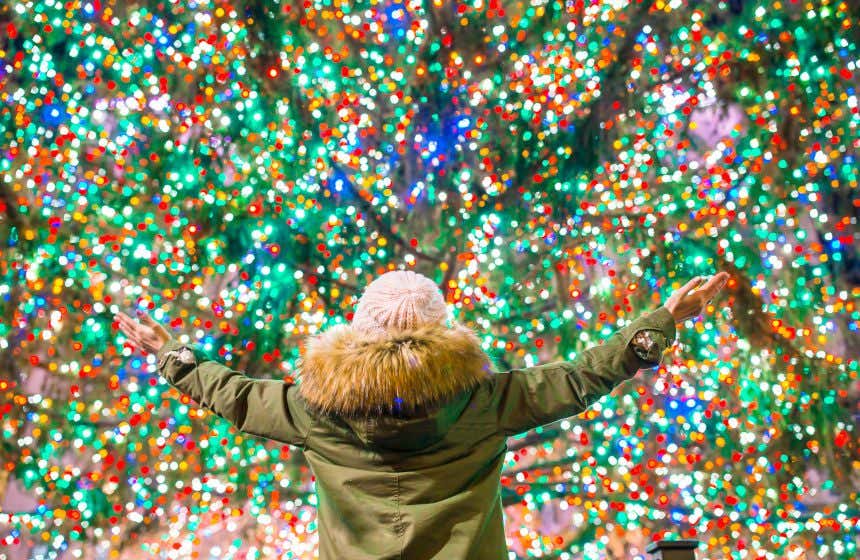 We've taken the most important factors into account. Percentage chance it's going to snow on December 25th first of all (there's nothing better than a white Christmas after all!). Then we looked at the number of Christmas markets, but so the biggest cities didn't have an unfair advantage, we made that proportional to population – to get an accurate picture of the likelihood you'll be getting your mulled wine hit this winter!
What else is important over the holiday period? Well, the lights of course! There's perhaps no better measure of Christmas spirit than a light show, so we took the number of days you can enjoy those lights before Christmas, and added it to the list – to highlight those places you can really get into the festive spirit!
Lastly, what is Christmas without giving? We took the number of malls, again proportional to population: taking into account those places where you're sure to find the perfect gift for that special someone!
So, without further ado… we present the Civitatis Christmas City Index!
Congratulations, Denver!
Want to dig a little bit deeper into the rankings? Here's the full table below:
Denver scored highly on snowfall (as you might expect!) with a 58% chance of a magical white Christmas! But that's not all the Colorado capital has to offer, in Denver you can enjoy 34 long days of Christmas lights before the big day on the 25th of December – second on our list. And it also comes in second for And it also comes in second for most Christmas markets per person, illuminating us all with cheer!
It's notable that the sunnier locations struggle a little more, with a near zero chance of snowfall on Christmas day. But it's worth noting that the sheer holiday spirit of Dallas shines through everywhere else – with a wealth of markets to dive into, and malls aplenty meaning you're sure to come home with the perfect gift!
At the other end of the scale, the large population and year-round sun of Los Angeles means it comes at the bottom of the list, and slightly surprising is the city of New York, in at number 13. Although it's got attractions aplenty, markets and shopping and lights famous around the world, its large population knocks it down the rankings somewhat: although it's got Christmas spirit, you're going to have to share!
Happy Christmas from Civitatis to each and every city!