Thailand's capital, Bangkok, is one of the most vibrant cities in Southeast Asia. A city of contrasts, modern skyscrapers intermingle with Buddhist temples and markets that stretch along streets and canals. This sprawling city has got lots of interesting things to see and do, so let's get to it and find out how to spend 24 hours in Bangkok!
The temples of Bangkok
Bangkok is a large, bustling city, so we recommend starting with a hearty breakfast to gather energy for the day. Of course, there's a wide variety of options, but people in Bangkok typically have something salty, like rice or noodles. If you want to have breakfast like a local, grab a quick bbq pork skewer with sticky rice from one of the street stalls!
Once you're filled with energy, you're ready to start the day! Your first destination should be the Royal Palace, the residence of Thai royalty until the 20th century. In this palace complex, you'll find the Wat Phra Kaew temple, which houses the famous Emerald Buddha. Although this jade-carved statue is only 45 cm tall, it's the most revered Buddha in Thailand.
Then, a few minutes from the Royal Palace is the Wat Pho temple, home to another well-known statue: the Reclining Buddha. This statue is 46 meters long and 15 meters high and occupies almost the entire space of the temple! After visiting Wat Pho, as you exit you'll find a bridge that leads to the Wat Arun temple, which appears in one of the most famous pictures of Bangkok. Its name means Temple of Dawn, and its tower is the tallest in the city.
These are the main temples of Bangkok, but you can find several temples and monasteries scattered throughout the city. Remember that inside the temples, you must dress modestly, always take your shoes off, and never face your feet toward the Buddha. If you're lucky, you might even find a monk inside the temple giving blessings! If you'd like a blessing, keep in mind that it's customary to leave a small donation in one of the urns or containers.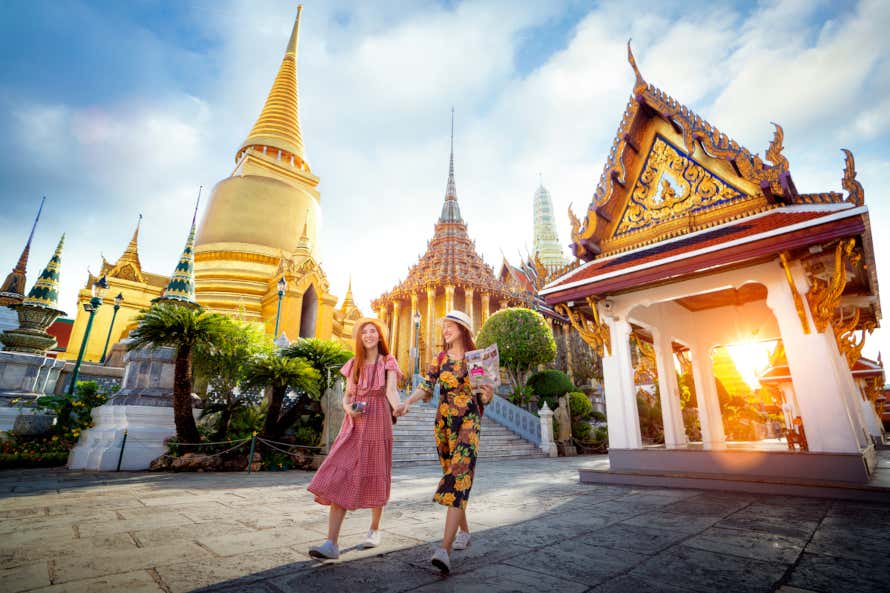 Pad Thai or insect skewers?
After an intense morning of temple visiting, you'll probably want to rest for a while and eat something before continuing. Thai cuisine is known for being very flavorful and spicy. But don't worry if you can't handle spice! One of Thailand's most popular dishes is the non-spicy Pad Thai, a sweet-sour noodle dish accompanied by vegetables, eggs, a protein, and peanuts.
And, of course, you have to try the world-famous street food in Bangkok. Among the most popular areas to taste authentic Thai street food are Chinatown, Sukhumvit Soi 38, and the markets of Chharoen Krung or Phetchaburid on Soi 5. You'll even find street food stalls with a Michelin star!
For those who might need a little nap after your meal, we recommend getting a traditional Thai massage. Prices are cheap and the massages are thorough. You'll leave feeling refreshed and ready to continue your 24-hour route in Bangkok!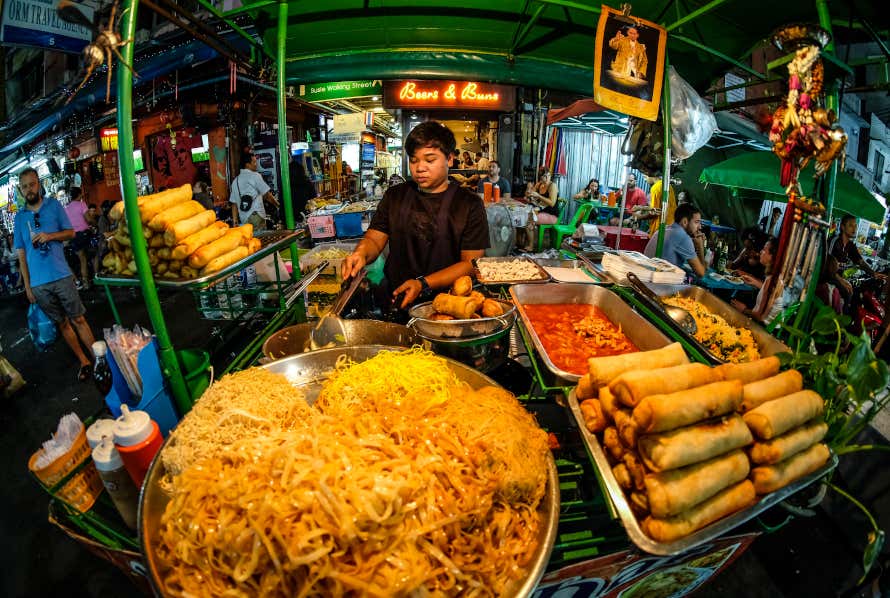 Navigating the Chao Phraya River
After a morning of temples, you might want to mix it up a little by visiting a floating market. The most famous in Bangkok is Damnoen Saduak. However, it's the most touristic floating market and is about 80 km from Bangkok, meaning you'll have to spend more than half a day to visit it. Most organized tours usually combine it with the market on the Mae Klong railway track to make the most of the day.
Two floating markets that are more accessible in terms of time and location are the Khlong Lad Mayom market and Taling Chan market, which are both just 20 minutes by cab from the center of Bangkok (moving by cab is a good option as they are very cheap in Thailand). These two markets are smaller and less crowded than Damnoen Saduak, but very authentic. At these markets, you can find everything you're looking for and are perfect to get to know the daily life of locals. You can hire a boat and float to all the various boat stalls!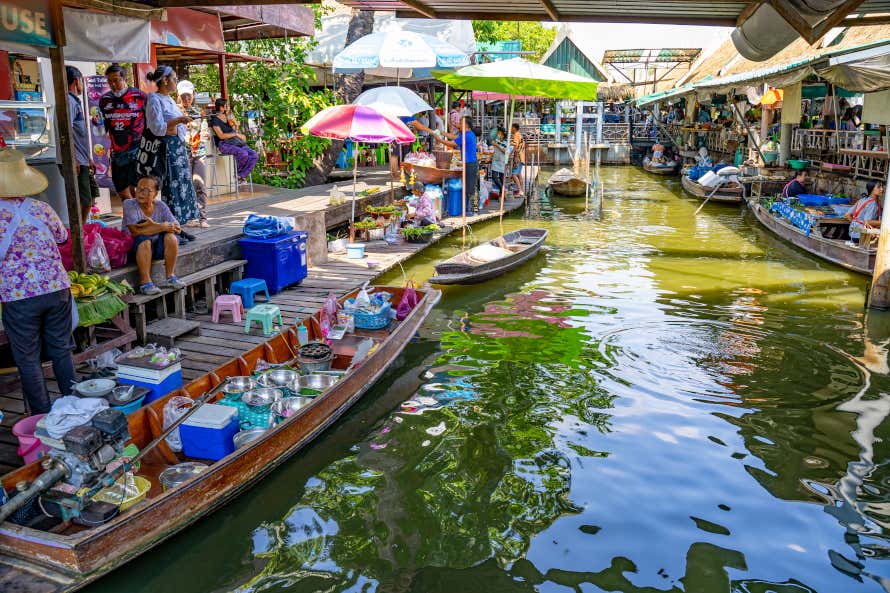 If markets aren't your thing, another option is to go on a traditional longtail boat ride on the canals. Today, only a few of the old klongs, or canals, remain on the west side of the Chao Phraya River, as most of them have been converted into streets. A 2-hour ride is enough to see the most characteristic ones and to get to know the life of the locals who live on the banks.
Nightlife in Bangkok
The sun is probably already about to set behind the buildings of Bangkok. Meaning it's the perfect time to have a drink at a sky bar or visit a viewpoint from where you can enjoy the sunset! The Baiyoke Sky Hotel and the Mahanakhon SkyWalk are the two tallest skyscrapers in the capital and are open to the public for people to enjoy their views.
The night might be falling, but that doesn't mean our 24 hours in Bangkok is over yet! A visit to this energetic city wouldn't be complete without setting foot on the vibrant Khao San Road, aka the backpackers' street. It's one of the liveliest areas, where most travelers flock when night falls. Khao San Road is a vital organ of Bangkok, where music, bars, massages, scorpion skewers, and revelry abound. It's undoubtedly the best place to close the night in the most vibrant capital of Asia!