If you head to eastern France, right on the border with Germany, you'll find Alsace, one of the most beautiful parts of Europe. Characterised by its canals and beautiful half-timbered houses, this region also stands out for the delicious gastronomy that perfectly blends Gallic cuisine with traditional Germanic recipes. If you're planning your next getaway to eastern France and you're not sure where to go, here are our favourite places in Alsace.
Its charming villages and famous Christmas markets already make Alsace one of our top destinations, but there's so much more to see! We also recommend taking a trip to the banks of the Rhine, which forms a natural border between France and Germany, to explore its traditional vineyards.
At Civitatis, we can think of endless reasons to visit this enchanting region. So, let's take a trip through our favourite places in Alsace!
Strasbourg
Today, Alsace is part of the Grand Est region in France. However, Strasbourg is nestled in the heart of Alsace's strong cultural, historic and gastronomic heritage. If you're not sure what to see in Alsace, its largest city is a great place to start!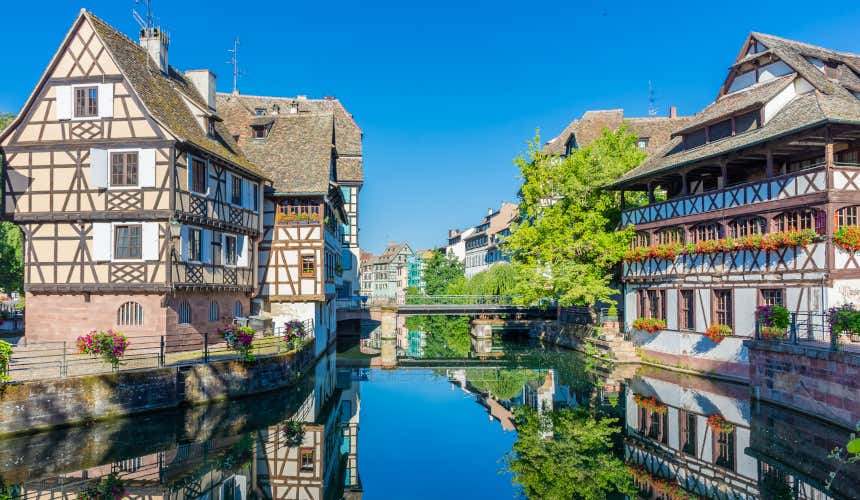 Strasbourg has everything you would expect from Alsace: canals, traditional half-timbered houses, restaurants serving Franco-German cuisine… This city is one of the seats of the European Parliament, a key body of the European Union, due to the border between the two countries. Strasbourg is also home to other important institutions such as the European Court of Human Rights, part of the Council of Europe, which has its headquarters in Strasbourg.
Strasbourg's European quarter is well worth a visit, as is the Petit France district. Its traditional Alsatian houses look like something plucked out of a fairy tale! For more idyllic fairy tale scenes, we recommend visiting Strasbourg's Christmas markets. These markets are open from the end of November until the beginning of January, and you can explore them on our Strasbourg Christmas Markets tour.
Strasbourg's strategic location makes it an ideal base for trips to other places, such as the German city of Baden-Baden. You can also set off from Strasbourg on an unforgettable wine tour around the many beautiful villages in Alsace.
Colmar
Colmar could be described as the Alsatian town par excellence and is definitely one of our favourite places in Alsace. Its romantic canals attract hundreds of thousands of tourists every year. These visitors also come in search of the colourful, traditionally Alsatian houses, which are decorated in bright pastel tones.
The Petite Venise district in Colmar is a must-see for visitors. As you stroll through its network of canals, you'll feel like you're exploring a film set, and you won't be the only one! The filmmakers of Beauty and the Beast were inspired by Colmar's architecture when creating the fictional village in which this animated fairy tale is set.
You'll also feel like you're walking through the pages of a fairy tale when exploring Colmar's beautiful surroundings on our tour of Alsace's villages. If you set off from Colmar, you can also visit the nearby German city of Freiburg, which is considered the gateway to Germany's Black Forest.
Château du Haut-Kœnigsbourg
Halfway between Strasbourg and Colmar, in the forests of the Alsatian Vosges, lies another one of our favourite places in Alsace: The medieval Château du Haut-Kœnigsbourg. This impressive bastion stands atop Stophanberch Mountain, from which you'll have an incredible view of the dense surrounding forests.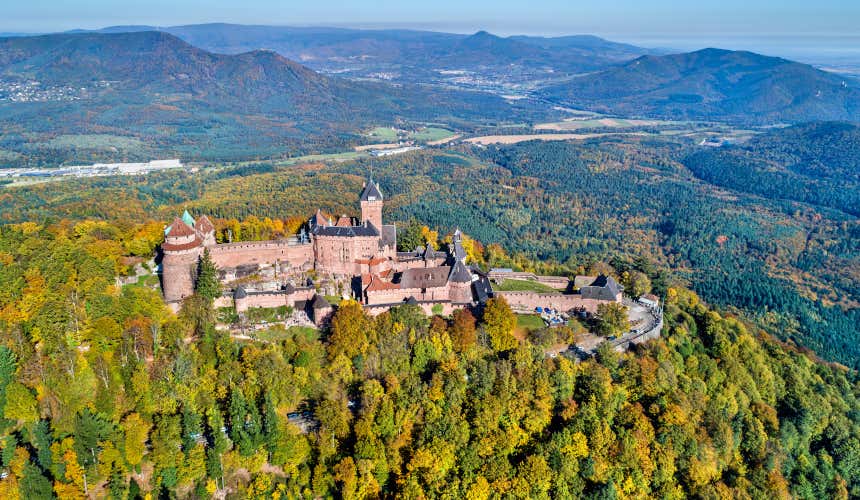 As you make your way inside, you'll see that the castle is like a miniature Alsatian village with its well, taverns and classic half-timbered houses.
If you'd like to visit this imposing fortress, we recommend the following activity departing from Colmar: Alsace & Haut-Kœnigsbourg Castle Tour.
Obernai
Another one of our favourite places in Alsace is Obernai, which is just a 30-minute train ride from Strasbourg. This picturesque town, which has the same fairy tale feel as the rest of the region, has a walled perimeter, giving it an authentic medieval character.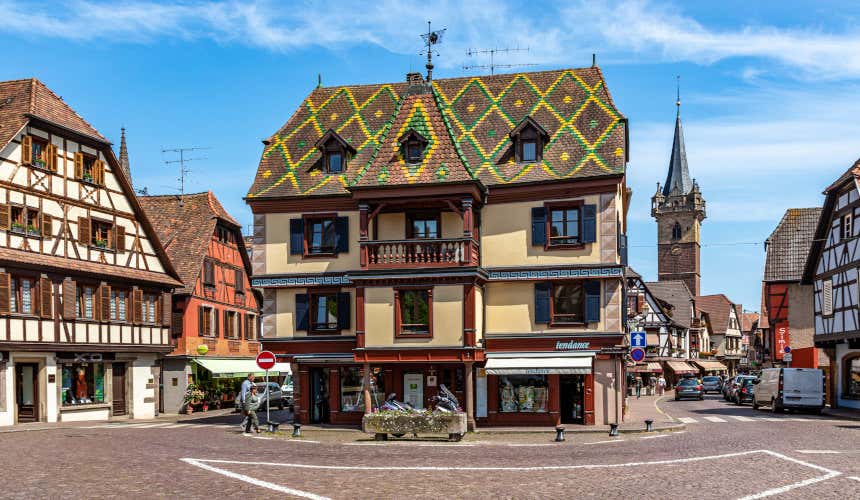 Strolling through this small village is like stepping into a fairy tale. A walk around the Place du Marché, next to Obernai's town hall, will give you an idea of the magic and charm it exudes.
If you'd like to visit this village, as well as other parts of Alsace, we recommend this activity setting off from Strasbourg in which you'll explore the villages of Obernai and Molsheim plus the Château du Haut-Kœnigsbourg.
Mulhouse
The city of Mulhouse is, without a doubt, one of our favourite places in Alsace. Its main monuments include the Protestant St. Stephen's Church, as well as the old town halls. Vintage car lovers are sure to enjoy the Cité de l'Automobile, a gigantic museum that houses an extensive collection of vehicles from different periods.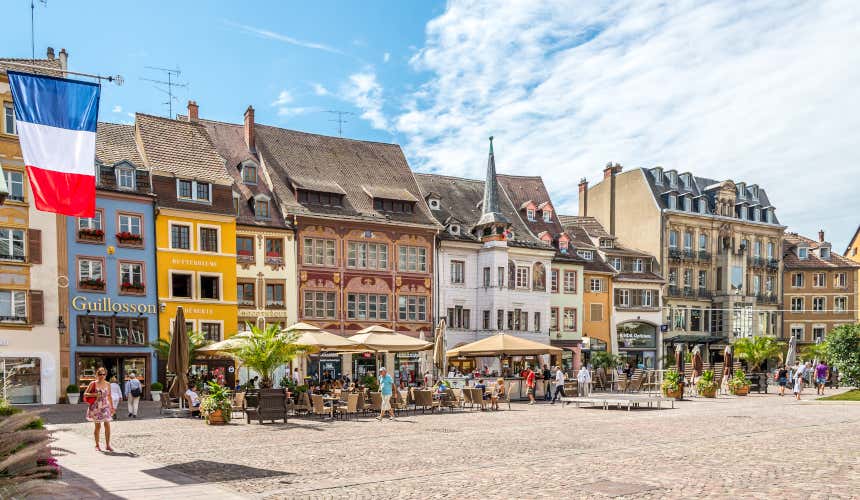 If you'd like to explore the main museums and monuments in and around Mulhouse, you can book this Pass' Alsace card.
Mulhouse is also perfect for a city break in Switzerland, as it's only a 30-minute train ride from Basel.